Content Writing Course - 8 Modules In-Depth & Advanced
Fees : Rs. 15,550 12,550
Module 1 : Kick Start Content Writing
– Building Confidence And Technique for Non-Fiction Writing
– Principles Of Great Non-Fiction Writing
– 10 Writing Exercises
– Creating & writing sets for List
– Processes & Principles of writing
– Story Telling Techniques
– Perspectives & Giving information
Module 2 : Crucial Content Writing Steps
– Copywriting Types you can use
– Researching Our Competition.
– How To Understand The Headline
– How To Understand The Sub-Headline
– Understanding The Importance Of Proving The Solution
– Showing The Benefits
– How To Show Your Credentials With High Impact
Module 3 : Content for Blogging & EBook
– How to Search for topics to write
– Content Writing for Blogging
– Insights to help you decide what to blog about
– Secrets of Successful Blogging
– Insider tips & tricks for monetizing your blog
– How to Create a EBook in Ms Word
– Valuable tips to writing a winning ebook
Module 4 : Copywriting Strategies
– Writing magnetic headlines
– Giving your customers reasons to buy – Product description
– How to get your customers to DO something – Call to action
– Testimonials and case studies
– The pre-requisite for writing mind-reading
– Trust building sales copy
– "Fear" of missing out – Scarcity factor
– "Value stacking" for improving conversion – Bonuses
– Writing that makes your customers buy NOW
Module 5 : White Paper & Case Studies
What is White Paper ? The purpose of creating these white papers is to release information to your potential clients about subjects of their interest. A white paper's purpose is to keep its client focused. Your clients would rather not be advertised to by your company but otherwise informed.
– Construction of a White paper
– Layout & Body of White paper. – Placement of Call to Action.
– Do's and Don'ts for Writing a White Paper.
Case Studies: A case study is the second most popular tool you can use to move decision makers through your sales cycle. Learn to Structure Case Studies which lead to conversions.
Module 6 : Writing Email's that will Convert
– Injecting "Power Words" & Phrases Into Your Email Copy
– Using Specifics & Numbers – Using Intrigue And Curiosity
– The Power Of Questions – The "Cliffhanger Effect"
– Start With A Strong Opening
– Write With Excitement & Emotion
Module 7 : SEO Copy Writing for Websites, Blogs, Google Ads. Landing Pages Anatomy
– Search Engine Optimization for your Content
– Keyword Research & Planner
– Elements of SEO Copywriting
– Writing Useful Keywords for search engines
– Keyword Research for Content Creation
– Pre-site, On-site & Off-site Activities
– Writing Meta tags, Title & Description Tags for Google Search Engines
– Landing Page for Lead Generation
– Landing Page optimization, Writing Call to action for Lead Generation
– Promoting & Marketing Articles, Social Media Integration
Module 8 : How to write High Converting Product Descriptions for Ecommerce Site. Content Marketing & Freelancing : Making Money
– CONTENT MARKETING on various platforms, Promoting & Marketing Articles
– Writing Product Descriptions for Products & Services for Ecommerce Websites
– Product Descriptions that Boost Conversions. Case studies of Successful product descriptions comp.
– Simple Ways to Write Product Descriptions that Sell & Convert Sales
– How to market yourself , Where to get Freelancing work from ?
– Two Steps to making money from blogs
– 5 really Useful links for your writing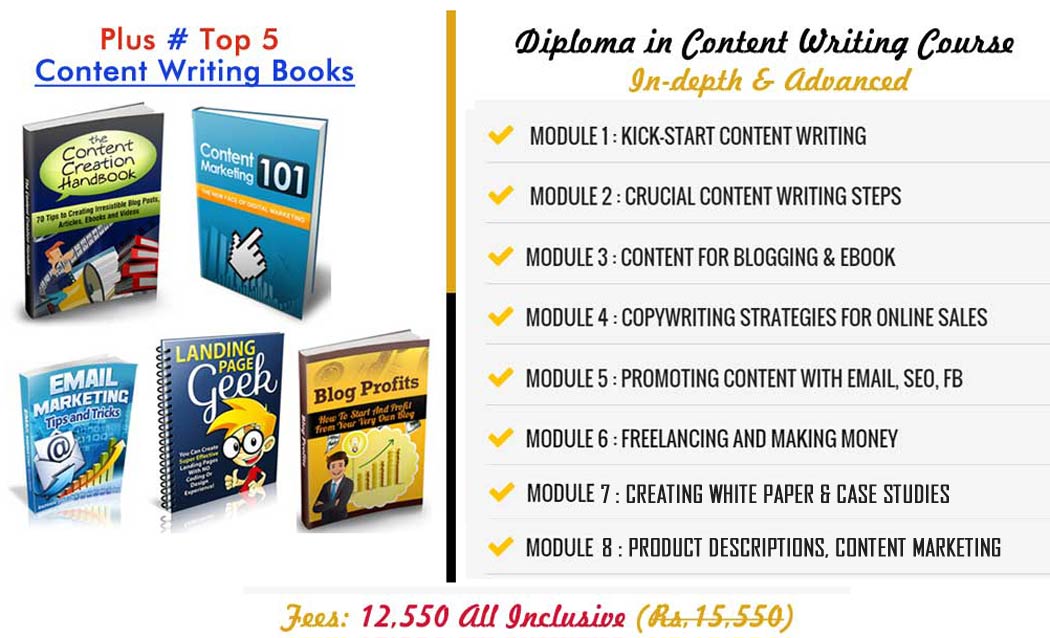 Watch the Counselling Video on Content Writing by the Trainer